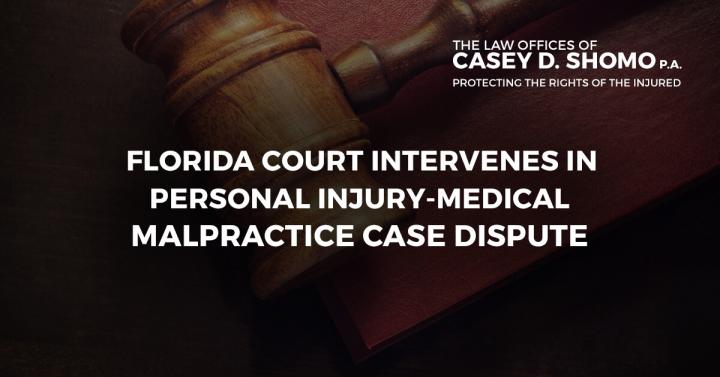 Emily Boozer, a woman who was ordered to pay $11 million in damages to the victim of a traffic crash she caused, has been told that she can't interfere in a medical malpractice lawsuit related to the accident.
The victim, Benjamin Edward Hintz, is also suing Holmes Regional Medical Center. He alleges the center exacerbated the brain injuries he sustained when Boozer crashed her car into his scooter from behind.
Ruling from the Higher Court
The ruling, from the Florida Supreme Court, establishes that the losers in personal injury cases can't seek to reduce their liability before paying what they owe. Boozer has not made any payments toward the $11 million she owes to Hintz. Boozer's insurance company, Allstate, has paid Hintz $1.1 million, which is the maximum allowed by Boozer's policy.
Boozer was attempting to bring a claim of equitable subrogation in the medical malpractice suit. This would allow Boozer to lay claim to some of the damages in that suit.
However, the court has ruled that since Boozer has paid none of the $11 million she owes Hintz, she has no right to stand in Hintz's stead in the medical malpractice case.
The court further held that the Fifth District Court of Appeals falsely invoked the "election of remedies" doctrine when it revived Boozer's case. The election of remedies doctrine prevents the collection of multiple settlements as the result of a single instance of wrongdoing. The Florida Supreme Court believes that Hintz alleges two separate instances of wrongdoing.
Palm Beach Injury Attorney
Medical malpractice and personal injury cases can be difficult to manage by yourself. You'll often be up against medical professionals, manufacturers, and even large healthcare facilities.
This is one of the reasons it's important to make sure you have an attorney on your side to represent your best interests.
The Law Offices of Casey D. Shomo can ensure that you get justice. If you or someone you love has been injured because of medical malpractice or any other form of negligence, call to schedule a free consultation with our West Palm Beach medical malpractice lawyer at 561-659-6366 or complete the form on our website today.