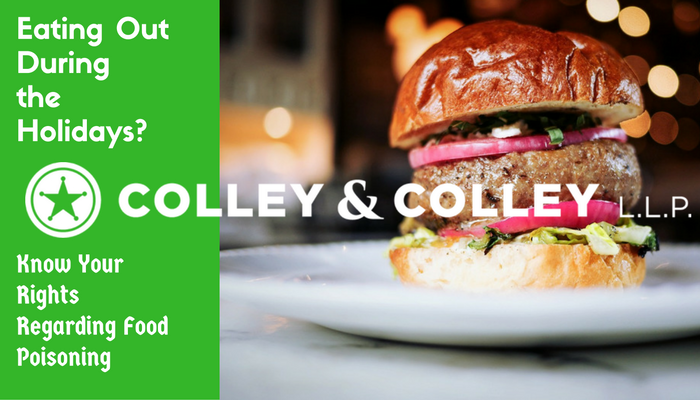 'Tis the season for holiday parties and dining out with friends and family. Like most people, you probably tend to eat at restaurants more often during the holiday season, and when you do, it is important to know what your rights are. While everyone expects the food that they eat to be safe, this is not always the case. If you get sick after an evening out, it could be due to food poisoning.
Seek Medical Attention Immediately
When feeling nausea or other symptoms of illness, the first thing to do is always to head to the hospital or to your doctor, depending on how severe your illness is. While there, you will probably be asked to provide a stool sample for lab testing. This is critical for your case because it could link your illness with a particular food.
For example, if certain microbes are found in your stool and those same microbes are present in contaminated food, it will be easier to prove that your illness was indeed caused by what you ate. You have a limited amount of time to do this, however, so see a doctor right away.
Food Poisoning Legal Options
With the help of a personal injury attorney, you can then file a lawsuit against anyone who was in the supply chain for the food that made you ill. This includes the restaurant, the suppliers who sold them the food, and the farm or slaughterhouse that the food initially came from. Essentially everyone in the delivery chain could be somewhat responsible for the contamination and for your illness. The key lies in identifying the right parties and in proving their negligence.
For you to receive financial compensation, we need to prove product liability—that something you ate was contaminated and that the contamination resulted in your illness. Then, we will need to demonstrate how your illness impacted you financially, physically, mentally, and emotionally to value your injury claim.
Austin Product Liability Lawyers
Proving food poisoning is easiest when the government has already traced contamination in a certain food supply. However, even without this circumstance, Colley & Colley, LLP may be able to file a personal injury lawsuit on your behalf. You can discuss your options further during a free consultation with one of our attorneys by calling 1-877-411-2001 or by contacting us online.